Stability of forest covers in Czechia
April 07 2022
Ivan Dejmal Foundation for Nature Conservation and VGP Foundation have combined resources to strengthen forests for today and the future.
Diversity and balance are key to healthier forests
Every Czech who reads the newspaper or watches television knows that forests in the Czech Republic are in generally poor health. We can observe this when driving through the countryside, as large expanses of Norway spruce have been killed by bark beetles and are now being clear-cut on an emergency basis. When walking in the forests, though, as tens of thousands of Czechs do every beautiful weekend, it may not be apparent at all whether we are strolling through a healthy forest or a very unhealthy one.
So what does a healthy forest look like? We asked Jan Duda, a professional forest manager, who was involved with a project supported by the VGP Foundation to stabilise and improve forests in the Liberec Region of Northern Bohemia.
"A healthy forest is above all diverse," Duda explains. "Such a forest regenerates naturally and respects the natural conditions of the particular habitat. It's not only about diversity of species, either, but also about diversity in genetics, age, stem thickness, and height. Only such forest can provide the highest possible level of resistance to pests, wind damage, as well as changing and uncertain future climatic conditions."
Depending upon such local specifics as climate, altitude, topography, and soil characteristics, healthy forests may look different at various locations. "But the general principle of diversity is very important," Duda emphasizes. "A healthy forest must also have an adequate amount of dead wood, which is important for the biodiversity of the forest ecosystem, the organic matter cycle, and the health of the forest soils."
Moreover, a forest can only support a certain amount of wildlife and still remain healthy. Unfortunately, Duda says that most forests in the Czech Republic are damaged because they are overpopulated by herbivorous wildlife. That overpopulation constitutes a major limitation on the restoration of healthy forests.
Although Duda agrees that, generally speaking, the state of forests in the Czech Republic is not very satisfactory, he also notes that there are some areas where the forests are relatively healthy. These tend to be places where mixed or deciduous (i.e. broadleaf) forests predominate, although he notes that even some of these forests may be declining because of long-term drought. 
"Clearly, healthier forests are also found in difficult terrain conditions that historically have been under limited intensive management and where natural processes have had a 'freer hand' over the long term," Duda remarks. "Many close-to-nature forests are designated as protected areas. Nevertheless, there is also an increasing number of forests that are managed in a purposeful way, using the creative forces of nature, with focus on sustainability and a balance between timber production and fulfilment of all their other functions."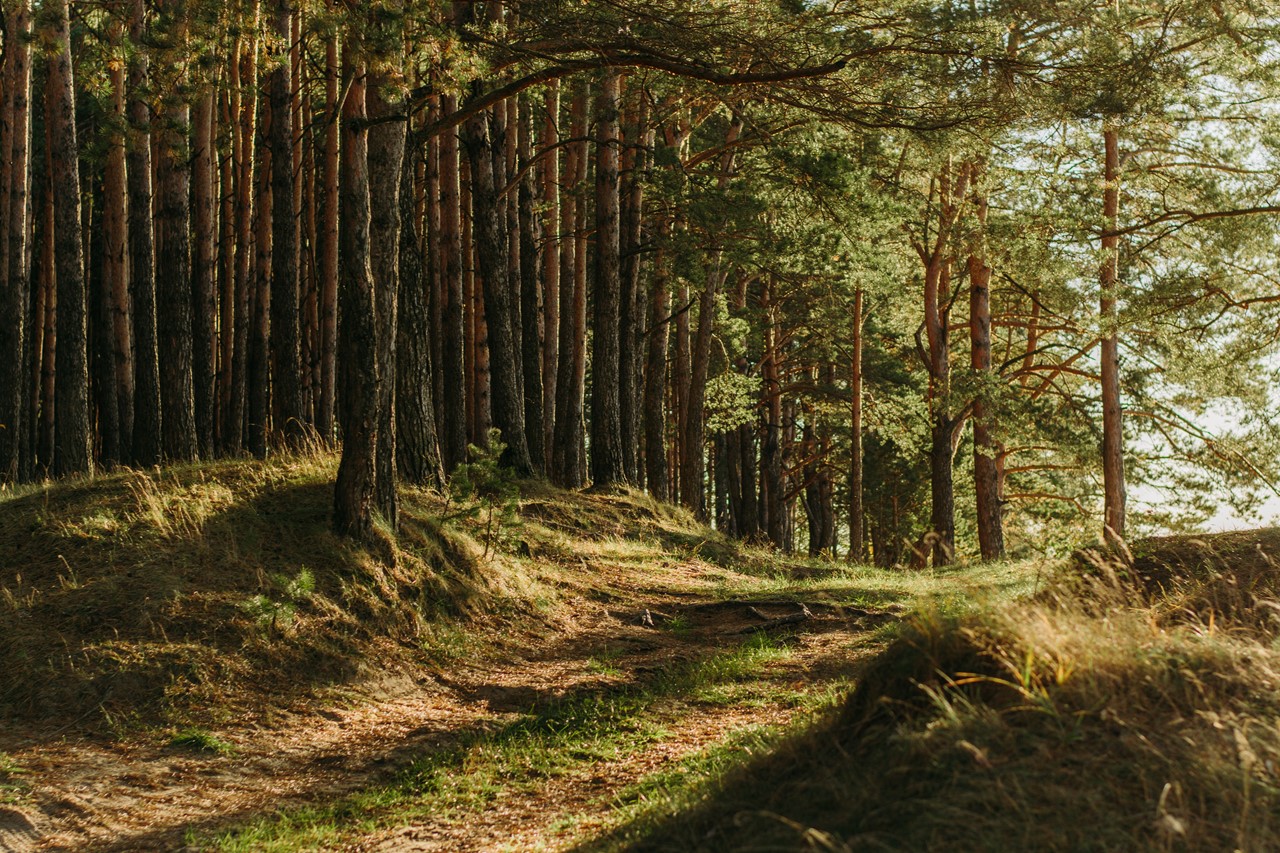 Photo © Irina Iriser via Unsplash
Those "other functions" of forests include providing recreational opportunities, protecting the soil and climate while retaining water in the landscape and purifying the air we breathe, preserving natural beauty, as well as providing habitat for wildlife and supporting biodiversity.
When the forest manager speaks of managing while using "the creative forces of nature," he is referring especially to following the so-called "Pro Silva principles" of forest management. Management according to these principles includes to abstain from clear-cutting while selectively harvesting individual trees, maintaining a diversity of tree species, continuously renewing the forests, and cultivating only those species of trees and other plants that are well suited to healthy forest within a given locality.
In addition to diversity and balance, every forest needs sufficient moisture to support the trees and all other forms of life growing there. Retaining more precipitation within the landscape is an important aspect of environmental management that thankfully has gained increased attention in recent years.
Protecting and restoring both natural wetlands and forests are priorities of the Ivan Dejmal Foundation for Nature Conservation. With the aim of restoring healthy balance and diversity to forests in the Liberec Region, the Ivan Dejmal and VGP foundations co-operated during 2021 in planting tens of thousands of diverse tree seedlings (mostly beeches, oaks, and firs) in the local forests. Since the 20th century, these landscapes had typically been dominated by spruce monoculture, which made the forests susceptible to bark beetle attack and other vulnerabilities.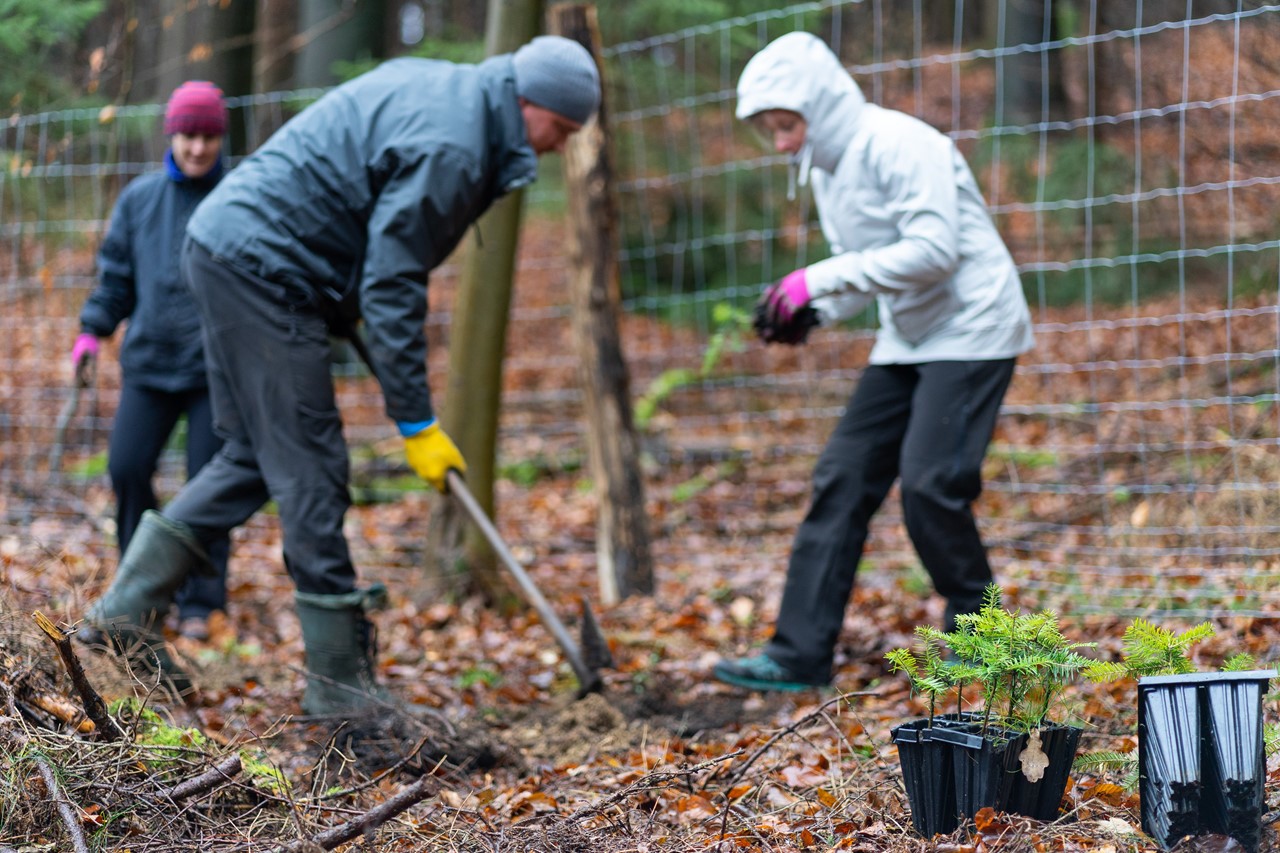 VGP Tree-planting day. Photo © Jakub Trsek
Established in 1993, the Ivan Dejmal Foundation has invested more than CZK 27 million (more than 1 million EUR) in supporting hundreds of projects. "Recently," explains Ondřej Petrovský, the Foundation's director, "it has been focusing on remedying the landscape water regime by using nature-friendly measures and by planting species- and age-diverse forests that will be healthy and sustainable in the long term."
The VGP and Ivan Dejmal foundations turned out to be natural partners. Nature conservation is one of the VGP Foundation's three broad focus areas (the other two being social and cultural heritage projects), and conservation is of course the whole reason for Ivan Dejmal Foundation's existence.
"The VGP Foundation itself approached us in 2020 and offered help with environmentally focused projects," Petrovský relates. "We immediately agreed to work together, and in the following year the VGP Foundation was already our most important partner. Thanks to the funds provided, we were able to successfully complete a project to save peat bogs in the area and significantly to expand our forest planting projects to a record 70,000 seedlings."
Peat bogs are very important to the Jizera Mountains, which straddle the border between Northern Bohemia and Poland. Co-operation between the Ivan Dejmal Foundation and the Jizera-Ještěd Mountain Association has saved a peat bog in the very heart of the Jizera Mountains. Petrovský explains that the peat bog had been insensitively drained in the past, but, as part of a broader project, small dams were built into the drainage ditches to retain water in times of rain and gradually to release it when there is no rain. The VGP Foundation was an important financial partner supporting this project in 2021, he says.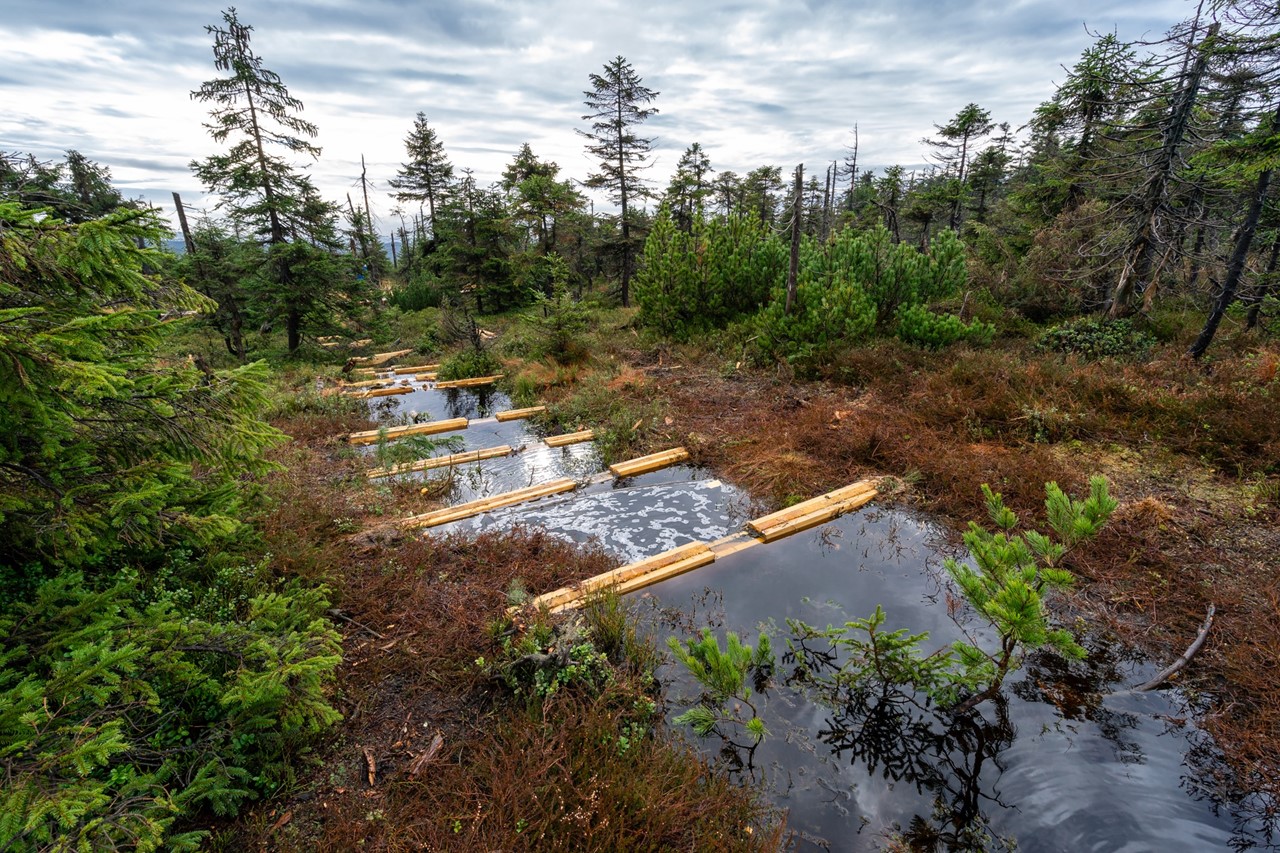 Water retention system. Photo © Jakub Trsek
A similar project will continue this year in one of the most valuable areas in the Jizera Peat Bog National Nature Reserve, Petrovský relates. "Here," he says, "a network of reservoirs will be added to increase water retention in this area. The previously implemented reservoirs clearly show that the project makes sense and that there already has been a significant increase in groundwater levels in those areas where these have been placed."
Restoring and protecting forests oftentimes means undoing damage that humankind has done. Nevertheless, Duda explains that many of the threats to our forests are things that "affect forests quite naturally, they are part of the dynamics of the forests' development, and it is not possible to eliminate them completely." Things like bark beetles, wind damage, and even disease are part of nature, but Duda points out that these naturally destructive factors can "become amplified or combined" when the forest species structure is not proper or due to climate change, degradation of forest soil, pollution, and a loss of biological and genetic diversity. In such cases, the negative consequences can be serious.
When asked about what can and should be done to restore and preserve our forests, this forest management professional invariably comes back to diversity, balance, and nature:
"Above all," he emphasizes, "we need to restore diversity to our forests and bring them closer to their natural state. And this is not just a question of what we grow, but also how we grow forests. A key to restoring the diversity of our forests is to restore the balance between forest and wildlife. With the current abundance of game, the diversity and stability of our forests cannot be restored. In diverse and naturally regenerating forests, wildlife will subsequently find better living conditions."
Planting trees is of course fundamental to forest restoration, but it also has become a major theme in corporate social responsibility. We ask Duda if there are guidelines for doing this properly.
The most basic prerequisite for planting a healthy forest, he says, is to make sure that the natural requirements of the individual tree species correspond to the location and forest where they will be planted. "It is advisable to combine several species of suitable trees," he goes on, "the choice of which must correspond to the conditions of the particular habitat. Different tree species have different requirements in terms of climatic conditions, light intensity, soil quality, soil and air moisture, air flow, and so forth."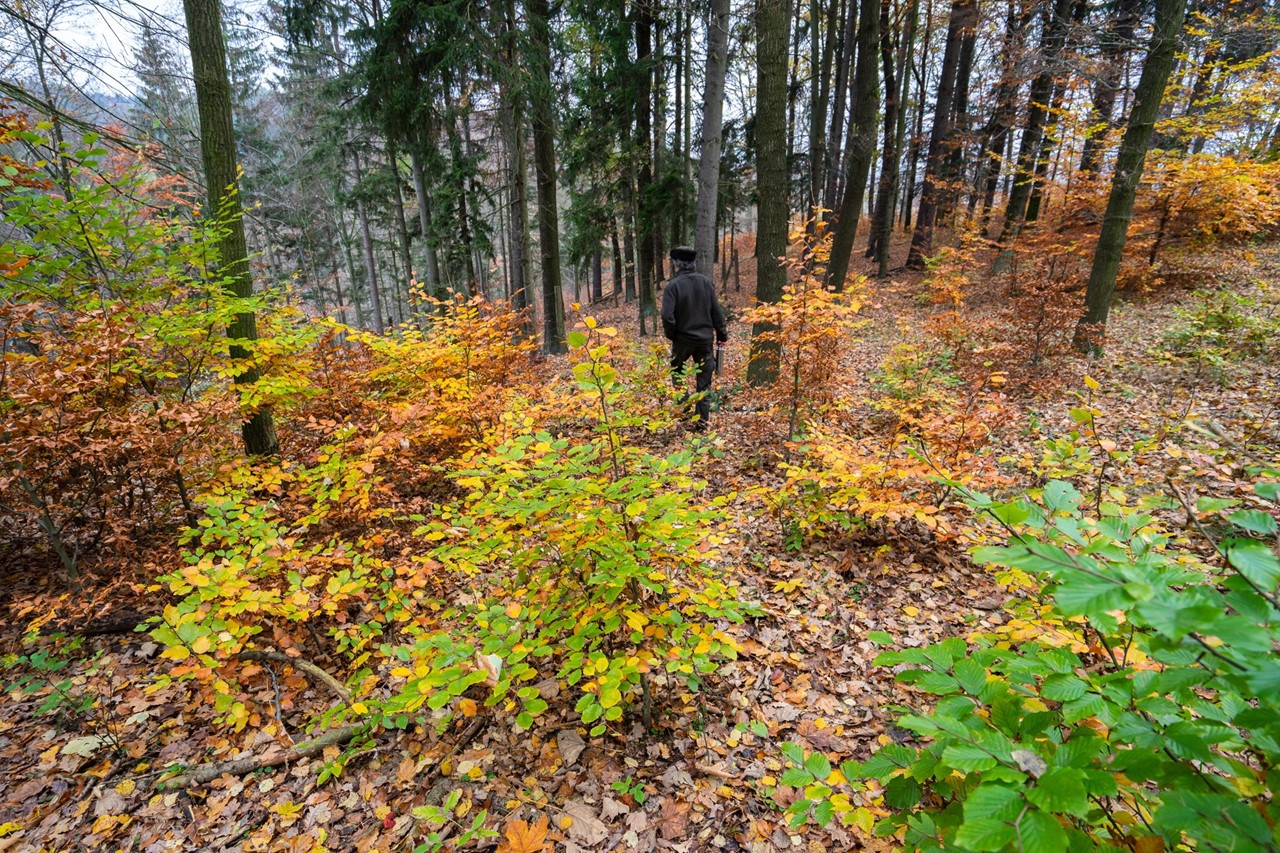 Because certain tree strains even within a single species are genetically better adapted to different areas of the country and specific altitude ranges, it is important to know the certificate of origin that comes with trees grown for transplanting and to plant only trees suited to the given location. Moreover, some trees, such as fir and beech, are not suited to planting in completely open areas, so they need to be planted along with or even in the partial shade of fast-growing, so-called pioneer trees, like birch or aspen, or in older tree stands where there has been some harvesting to open the canopy.
Beyond planting trees and supporting organisations and public policies that favour healthy forests, Duda points out that we can positively influence forests through our buying decisions as consumers. He recommends to know the origin of wood products that we buy and to purchase items made of locally sourced wood. Exotic woods imported from distant lands often are from countries that do not have laws ensuring responsible forestry practices. "Demand for products made from various species of domestic woods can indirectly support forest diversity," Duda remarks.
Because trees and forest grow so slowly, one may not see the point of actively doing something today that maybe will benefit only generations in some distant, unimaginable future. But Duda says change in the aggregate can occur more quickly than we might think, and we also can act to prevent negative changes in our forests that might occur in the very near term if responsible action is not taken today. 
"Although most tree species are hundreds of years old, and one year does not mean much in the life of a forest," he remarks, "obvious changes can be observed after only 5, 10 or 15 years. There should be no doubt, therefore, that current generations will also witness significant changes in our forests. I believe that with the level of knowledge we have achieved, we will pass our forests on to future generations in a much more diverse and stable state, and that they will once again be able to rightly call them a national treasure."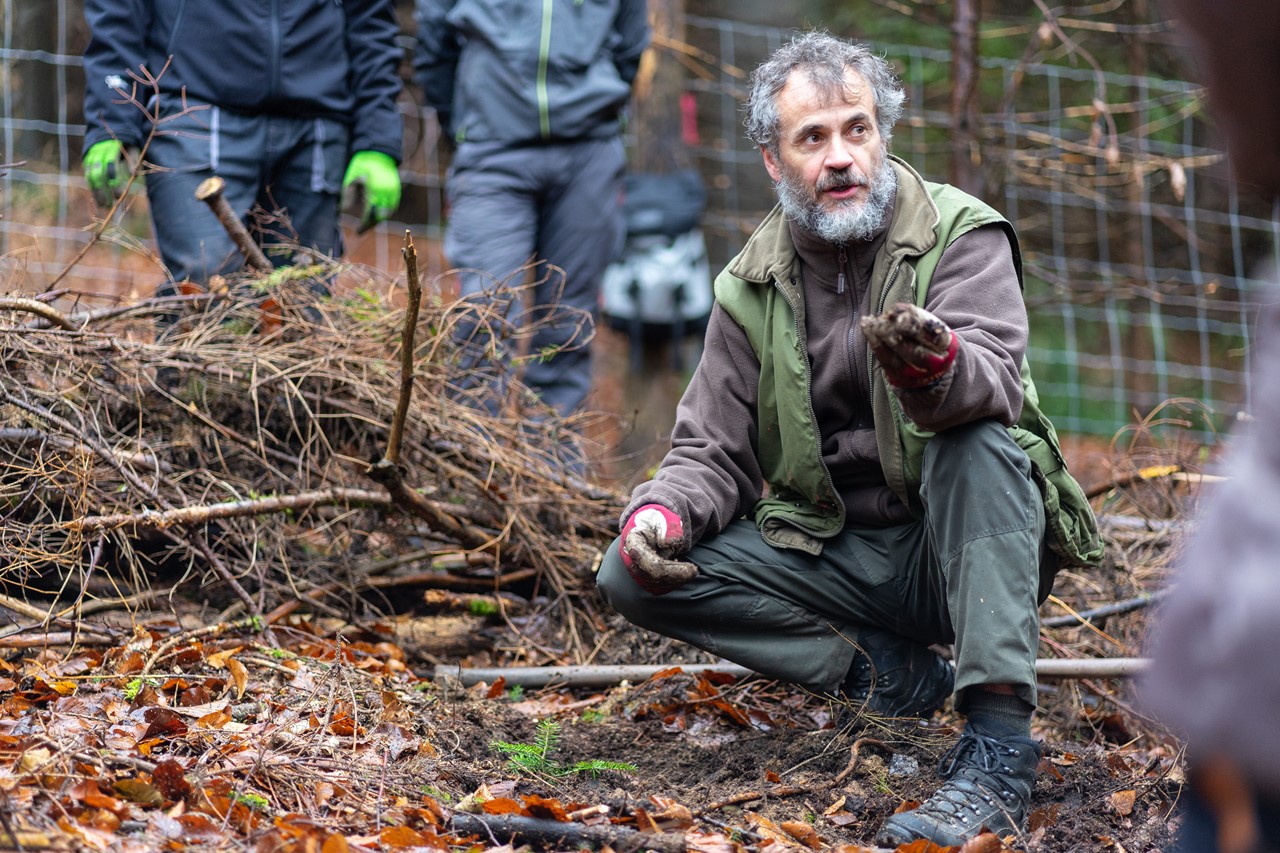 Jan Duda teaching how to correctly plant tree seedlings during the VGP Tree-planting day. Photo © Jakub Trsek
This article was prepared by Gale A. Kirking, Editor-in-Chief at English Editorial Services, s.r.o.
;